Our Mission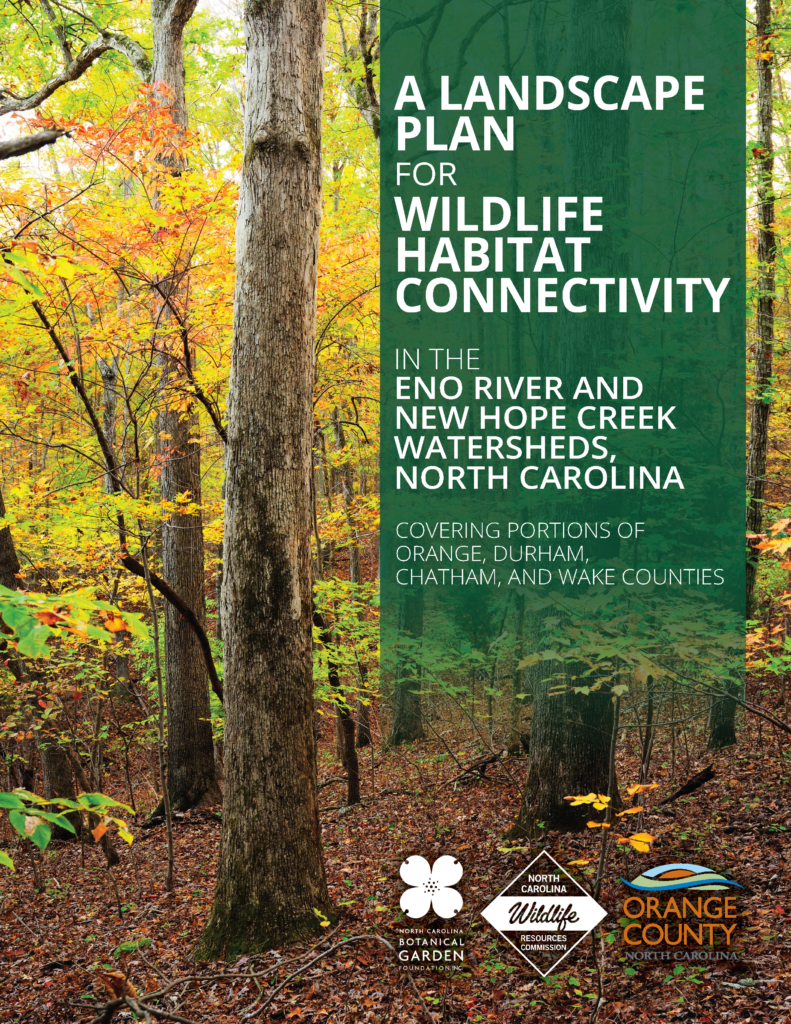 A LANDSCAPE PLAN FOR WILDLIFE HABITAT CONNECTIVITY IN THE ENO RIVER AND NEW HOPE CREEK WATERSHEDS, NORTH CAROLINA
Eno-New Hope Landscape Conservation Plan
The Eno-New Hope Landscape Conservation Plan was produced by a collaboration among local governments, conservation groups, universities, and ecologists and focuses on the critical importance of habitat connectivity for wildlife in the Eno River and New Hope Creek watersheds in Chatham, Durham, Orange and Wake counties. The Landscape Plan is a Partners for Green Growth project funded by the North Carolina Wildlife Resources Commission and Orange County, NC, and administered by the North Carolina Botanical Garden Foundation, Inc.
Download GIS Data
***UPDATED, EXPANDED DATA NOW AVAILABLE.***
Click below to read instructions and download the Upper Neuse-New Hope Landscape Habitat Connectivity GIS data*. The data can be downloaded as a zip file containing an ESRI geodatabase.
*As of January 2023, the updated data include additional watersheds in the Upper Neuse River basin, through a project by the Durham County Open Space Program with funding from the Burt's Bees Foundation.
Explore Interactive GIS Data
(2019 data currently available; updated, expanded 2023 data coming soon.)
Explore the Eno-New Hope Habitat-Corridor Network interactively with other conservation and natural resource layers on the North Carolina Natural Heritage Data Explorer website. After you agree to the terms and conditions of use, expand the Regional Conservation Planning section in the Layers menu on the left, check the box to turn on "Eno-New Hope Wildlife Habitat Connectivity", and zoom in to our area to explore the habitat-corridor network.